Hungary's Central Bank Governor Wants To Ban Crypto Mining And Trading
by Kayode Adeoti · · 2 minute read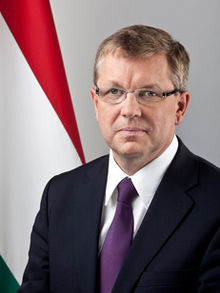 In a blog post published by the Hungarian Central Bank titled "Time has come to ban crypto trading and mining in the EU," György Matolcsy, Governor of the Hungarian National Bank, made the proposal to ban on all cryptocurrency trading and mining operations throughout the European Union on the grounds that it helps promote "illegal activities and tends to build up financial pyramids."
"It is clear-cut that cryptocurrencies could service illegal activities and tend to build up financial pyramids. The EU should act together in order to preempt the building up of new financial pyramids and financial bubbles," said György Matolcsy.
Following in the footsteps of China, Russia, and other countries
Matolcsy made mention of China's ban on crypto trading and mining in 2021 and the recent crypto proposal made by Russia's central bank.
It seems the widespread adoption of cryptocurrencies is posing a threat to the financial stability of centralized exchanges in some countries. Last September, China declared that all cryptocurrency transactions are unlawful, thus outlawing digital tokens such as Bitcoin and other cryptocurrencies.
Additionally, Russia's central bank suggested a ban on cryptocurrency trading and mining earlier this year, expressing concerns that continuing use may lead to financial instability and the destabilization of the country's monetary policy. Although the Russian government and the Russian central bank have since come to an agreement on the regulation of cryptocurrencies in the country.
Some counties like Kosovo are also banning crypto mining due to the vast amount of energy involved in the mining process causing blackouts and soaring energy prices. Following a period of energy constraint in the nation, the government of Kazakhstan also imposed stringent controls on crypto mining activities.
In January, Erik Thedéen, the vice chairman of the European Securities and Markets Authority also proposed banning bitcoin mining for the same energy related reason.
In the blog post, the governor of the central bank expressed his support for the plan as well as his agreement with the position of a top EU financial regulator that the EU should prohibit the energy-intensive bitcoin mining process that is used to generate the vast majority of new bitcoin.
Matolcsy also said EU citizens and companies should be permitted to own and access their cryptocurrencies outside of the European Union with authorities keeping track of their holdings.
"EU citizens and companies would be allowed to own cryptocurrencies abroad and regulators will track their holdings," said the governor.