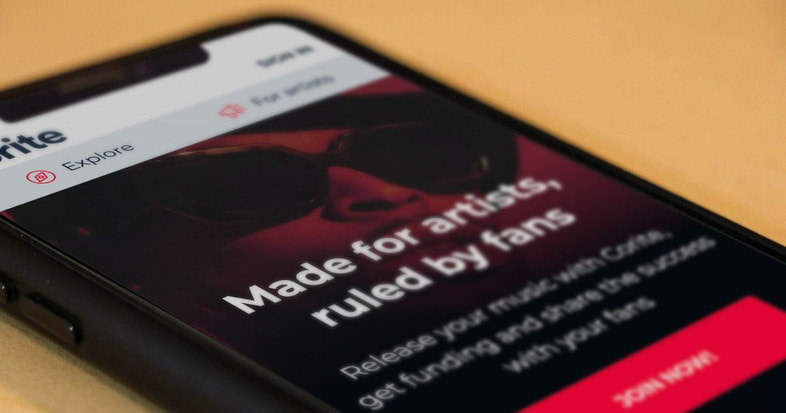 Corite CO is a blockchain-based platform that allows fans to back new music. Founded by long-term music insiders, the platform disintermediates relations between artists and music labels, actively using gamification to drive appeal. While it can be difficult for lesser artists to get support and funding from labels and producers, Corite CO allows them to communicate directly with the general public. In this approach, the team is set to disrupt the global industry of music distribution and promotion, utilizing the power of the fans.
At the core of Corite CO lies the Chromia blockchain, which offers the effective PoA consensus protocol, minimal block confirmation time, and specially designed NFT standards: vital qualities in the era of excessive bottlenecks and fee-calypses on other L1 solutions.
What's the global business model of Corite CO?
Corite CO uses a fan funding model, where backers get a percentage of the artist's future profits when investing actively. Any performer can set up their fan funding campaign within the platform. To do so, they will need to define the percentage of the revenues to be shared with the backers, and publish a short bite of their music, so users can learn more about the artist and the upcoming piece. Those who fall in love with the unique style can then make their investment.
With the "fan funders'' covering the music production and marketing costs, artists are released from a constant chase after unwilling financing centers. In this way, Corite CO serves to disintermediate the highly gated industry of music distribution and marketing, using the blockchain and all perks that come with it.
When the track is ready to be released, Corite CO helps artists get it featured on all major streaming services, such as Spotify, Apple Music, TikTok, and YouTube. The captured revenues are pulled back towards the artists and investors on the platform.
Additionally, artists get access to various gamification tools to lighten up interactions and engage their following. Specially designed NFT allow them to set up utilities and incentivize holders to take part in missions and challenges.
What are the benefits for artists offered by the platform?
Smaller artists find it next to impossible to get support from labels, and 50% of active streamers still need to augment with ancillary income because of the pro-rata model adopted by the major streaming services. This results in major musicians making millions, while everybody else is scraping to survive, not having enough clout to succeed.
With Corite's help, smaller to medium artists can energize their social following and inner circles, as well as get additional exposure within the platform, and get a fair cut of the revenues by eliminating the intermediary. Bigger artists with a multi-million social following, in their turn, can use Corite CO to get the required funding in, literally, minutes. More importantly, they can expect massive promotional support from their wide audience and backers, that will potentially substitute the old school label model.
On top of getting fair revenue shares, Corite offers artists new ways to boost engagement through fan power and social tokens, by offering them unique perks, as well as missions and challenges to participate in.
What benefits will fans receive?
What's your favorite singer, or musician? Just imagine you could invest $10 into the next piece by them - and get a solid return on that. In my case, it's K. Perry. Corny, but I like her. I would probably sell my soul for that, save the ten bucks.
Add to that the potential to influence the industry and make sure more of the music you like gets out there, getting early access to new releases, voting on artist's major decisions, as well as other perks, and being a part of an active, like-minded community - and this, indeed, turns into an irresistible proposition.
What are the benefits for investors?
There are multiple opportunities for investors within Corite CO. First, given the platform's tools mechanics, there's a good chance it might soon become the best place to spot the next Justin Beiber before he advances. Those with an ear for raw talent will gradually transform into professional "spotters", getting access to a substantial stream of income.
The second opportunity Corite offers is investing in the $CO token. The demand for the token is hotwired into the platform's tokenomics. To get early access to a fan funding campaign, investors will need to hold $CO tokens. The more songs sell out pre-sale, the more attention the platform will garner. This and many other use cases (such as buying NFTs, trading them and social tokens, going through gamification challenges and missions created by artists) will result in significant amounts of $CO taken out from the market, positively affecting the price dynamics.
And lastly, with access to a user-friendly interface, and fiat-on ramps, investors will find it easier to bet on the music industry and diversify their portfolios than ever before.
What's the underlying technology behind Corite?
Corite CO is built on top of the Chromia blockchain, which brings efficiency and resilience. Chromia was created by ChromaWay, one of Corite's key partners and investors, mostly known for its My Neighbor Alice multiplayer blockchain-based game.
The Power-of-Authority consensus algorithm requires a group of delegates to stake significantly high amounts of money. These nodes confirm blocks, always guided towards positive behaviors through strict sanctions against any wrongdoing. With no need to propagate an updated ledger copy across a wide network of nodes, Chromia assures fast confirmations and smaller transaction fees, which also results in the de-minimis environmental impact.
Corite CO uses Chromia-native NFTs and marketplace blueprints, leveraging the well-audited smart contracts and composable modules, so the dApp can easily deal even with huge spikes in activity.
What are the expertise and talents behind Corite CO?
Corite CO already has a successfully operating non-crypto twin that has successfully disintermediated a large number of royalty-sharing transactions. In 2019, the team launched Corite, the fiat pilot version of the platform, which has been successfully disintermediating the industry since then. The blockchain version will reuse its predecessor's mechanics and build on top of them with amazing gamification and fractionalization effects.
The team's dynamics are driven by its founders, Mattias Tengblad and Emil Angervall, both Universal Music alumni and Emelie Olssen, who acts as the Director of Artist Relations for the platform.
What's the tokenomics for Corite CO?
$CO is a utility token, designed to power up all facets of Corite Co's ecosystem. It's different from general-purpose NFT marketplaces since there's a focus on one niche - music distribution and marketing. $CO also doubles as a governance token, enabling holders to vote for proposed adjustments.
Apart from that, artists use $CO to make stakes when creating a fan funding campaign, while users may trade it for social tokens from a specific artist and vice versa. Active users will receive $CO rewards for their engagement on the platform.
The tokens will be distributed across a number of line items with the largest share being marketing (10%), ecosystem (20%), and foundation reverses (20%). The ecosystem has the resources needed for long-term promotion and network effect. A 15% share is allocated for the team and advisors.
Conclusion
Despite the success of music streaming still, the music industry offers too few opportunities for young talents to collaborate and budding with their listeners, and anything that breaks the status quo can be a big thing. And it's not just about calculated investment decisions. By investing in their favorite artist's NFTs, fans will get back that feeling when you are among the few who own a signed vinyl, cassette, or CD. Scarcity and rarity will appeal to all three main stakeholder groups: artists, fans, and investors.
Besides that, Corite CO contributes to the democratization of the industry: while the streaming business model makes it next to impossible for new artists to succeed, the platform stands to capture the pent-up yearning for a better provider-intermediary fit.
And lastly, a gradual move toward decentralized governance will empower influence pockets to drive the network effect and adoption. This is a community-driven project, and $CO tokens will entitle any community member to participate in votes on all angles, including development vectors, financials, investment allocations, and more.