Nayib Bukele predicts $100,000 target price for Bitcoin
by Kayode Adeoti · · 2 minute read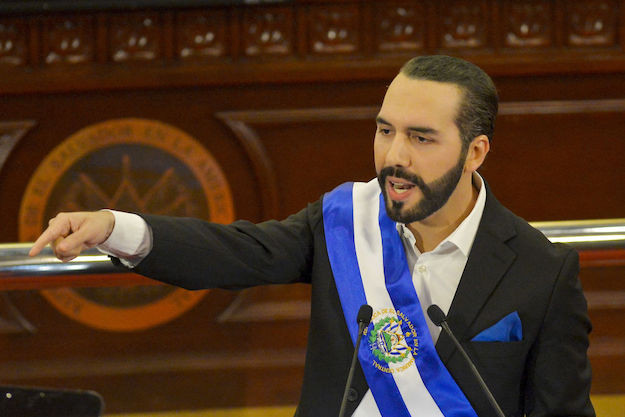 In a tweet made on Sunday, El Salvador's President, Nayib Bukele, made some speculative predictions regarding Bitcoin, including his price prediction for the cryptocurrency. He predicted that the current price of BTC will double its price in 2022 to surpass $100,000, as well as becoming adopted as a legal tender in at least two more nations.
Bukele's predictions appear to be confident, but we'll have to wait and see when and if they all come true this year. This may also be because of Bitcoin's performance last year, as the coin surged by 60% last year and peaked at $68,783.63 in November. Bitcoin is currently trading at $46,200 and has spent the previous month around $50,000. This is a long way from Bukele's prediction and Bitcoin has to go a little more than double this year to achieve this.
"2022 predictions on #Bitcoin:
•Will reach $100k
•2 more countries will adopt it as legal tender
•Will become a major electoral issue in US elections this year
•Bitcoin City will commence construction
•Volcano bonds will be oversubscribed
•Huge surprise at @TheBitcoinConf"
In a subsequent tweet, the President stated: "This tweet will age well."
Construction of Bitcoin City
Since he signed the Bitcoin Law last year and he became the first international leader to embrace bitcoin, President Nayib Bukele has made many significant cryptocurrency investments and has recently declared intentions to construct a Bitcoin City. Plans for the construction of this city were announced at the close of Bitcoin Week in El Salvador which took place in November last year.
According to the president's tweet, Bitcoin City's development will begin in 2022. The city's energy supply will be in the form of volcanic energy from one of El Salvador's active volcanoes in the Gulf of Fonseca and other taxes apart from the value-added tax (VAT) will not be imposed.
Financing will be partly sorted by a $1 billion Bitcoin bond, also known as Volcano bonds. He also predicted that these Volcano bonds will become oversubscribed.
Adoption In More Countries
On September 7, 2021, El Salvador became the first government to make Bitcoin legal money, triggering a worldwide reaction, especially in the crypto space.
Bukele predicts that at least two other nations will make Bitcoin a legal tender while also predicting that Bitcoin will become "a major electoral issue in US elections this year."
There have been rumors of countries in Central America considering the idea of Bitcoin being accepted as a legal tender, while some US politicians have expressed their support for the cryptocurrency.
Finally, he said that there would be a huge surprise during the Bitcoin 2022 conference in Miami, Florida this April.